A turn of events

︎ by Emma Crimaldi and Natalie Price, Brand Designers




Online Marketing Rockstars. The Glastonbury of Marketing, if you will. Every year, tens of thousands of startuppers, entrepreneurs, founders and companies gather in Hamburg to attend. And this year, Pleo was there.

We sponsored a 70m2 lounge as one of three companies in the Finance Forward space, and two of the Brand Designers (Emma and Natalie) were involved in the creative process.

The brief was straightforward: the lounge should be playful, experiential, sophisticated and focused around the concept of "transparency" without being too on the nose; and it should allow for three distinct areas: a quiet area for meetings, the "Pleo Experience", and a solid collection of merch that people actually want.

With all that in mind, it was moodboarding time!



The concept
The final concept we arrived at played into ideas we tend to come back to
again
and
again
and
again
in the brand team at Pleo: the evolution of work; the old vs. the new. We knew we were targeting forward-thinking people in the finance sector, attending an event literally named 'Finance Forward', and we wanted our design to approach this with a bit of a sense of humour. Building off a project that Emma had already worked on for the Stockholm office, we decided that a core part of the lounge would be modelled on a museum exhibition, featuring the now-obsolete artefacts of the finance world as a kind of cabinet of curiosities.
Of course, it wouldn't be a museum without a gift shop. We became really set on the idea of having a little space with free souvenirs – posters, prints, publications, you name it – from the exhibition that people could take home with them. Exhibitors at big corporate events tend, unfortunately, to bring a glut of cheap, logo-emblazoned merch that no one really needs or is likely to use in the future. We wanted to ensure that we were only designing and producing high quality items that people could make use of and/or would genuinely want in their homes.
We had also been briefed that the lounge space should feature something experiential for guests to interact with. When we first started ideating, we cast the net quite wide. We thought, for example, about finding ways of somehow crowdsourcing and displaying guests' perspectives on good and bad workplaces and work practices, perhaps through a QR code or physical note cards. In the end, though, this is where we chose to incorporate a stripped back demo of the Pleo product, something that would highlight again the evolution of tools and processes in the finance world.
As for the lounge space itself, the concept was simple: to evoke the red thread of warm, beautiful Nordic design that runs through our brand and our Pleo office spaces.
The execution
6 weeks before the event took place, we packed our bags and headed to the Berlin office to meet up with Franzi and Marie, our Marketing besties (👯‍♀️).
With plenty of space to spare, our first move was to map out the space on the floor to get a feel for the lounge with placeholder decor and furniture. Several eager-to-help sales guys carrying furniture later, we managed to get a sense of how to section the lounge, and how many pieces of furniture to add to the list.
The list grew to a total of:
︎ 2x Sofas
︎ 6x Lounge Chairs
︎ 6x Coffee Tables
︎ 4x Stools
︎ 3x Sideboards
︎ 2x Tables
︎ 10x Chairs
︎ 2x Floor Lamps
︎ 3x Rugs
︎ 1x Moccamaster
And from there, we put together a proper floorplan with furniture to scale and moved things around until it made sense.
We established what designs would be necessary to fill up our gift shop, and started to experiment with some initial drafts, scans, and print tests.
The setup

And finally, the moment had arrived – we were on our way to Germany and the big event itself. After flying to Hamburg from London (Natalie) and Stockholm (Emma) respectively, we arrived at Hamburg Messe, the enormous venue, picked up our crew passes, and were promptly golf-carted to the Finance Forward area, where we were reunited with Franzi and Marie.

The next two days were a blur of furniture-building, making trips to shops (IKEA, Muji, DIY shop, craft shops) for last-minute additions, gluing, spray-painting (don't ask), gift-shop-assembling, lifting heavy items up stairs because the escalators weren't yet operational, arranging, appraising from every angle, rearranging…

By the time we were done we were bone tired – but happy.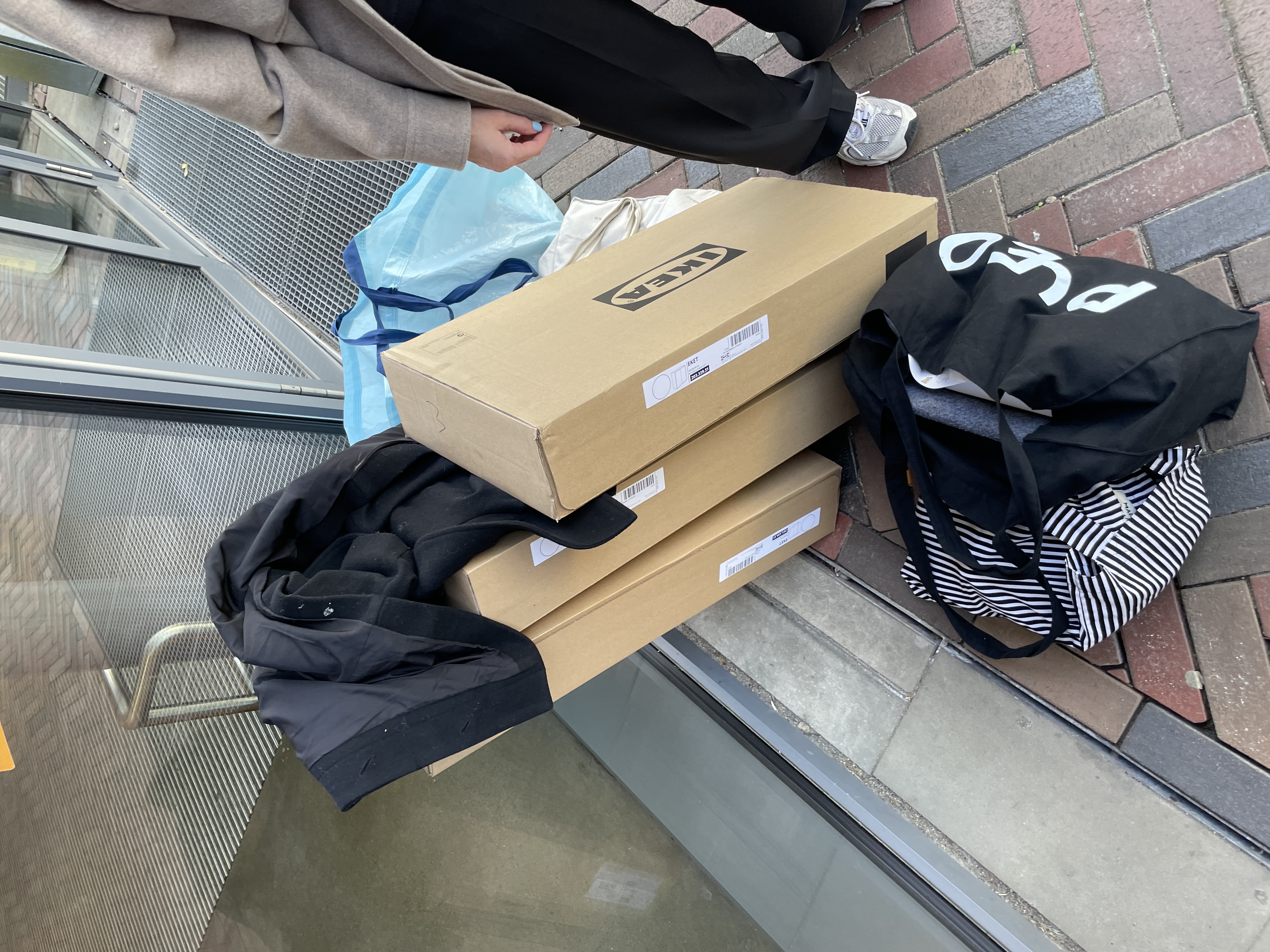 The print design

The artefacts we featured on plinths throughout the lounge space were predominantly documents and office technology dating from between c.1950 and c.1990, and as such the final print material we designed drew inspiration – both directly and loosely – from corporate brand identity systems, instructional materials, photography, and illustrations of the mid to late 20th century.

The Pleo brand was intended to take somewhat of a back seat for this event, but it also features subtly throughout the design, in the occasional usage of the core brand pink and stylised, imagined versions of the logo that would perhaps feel at home 50 years in the past.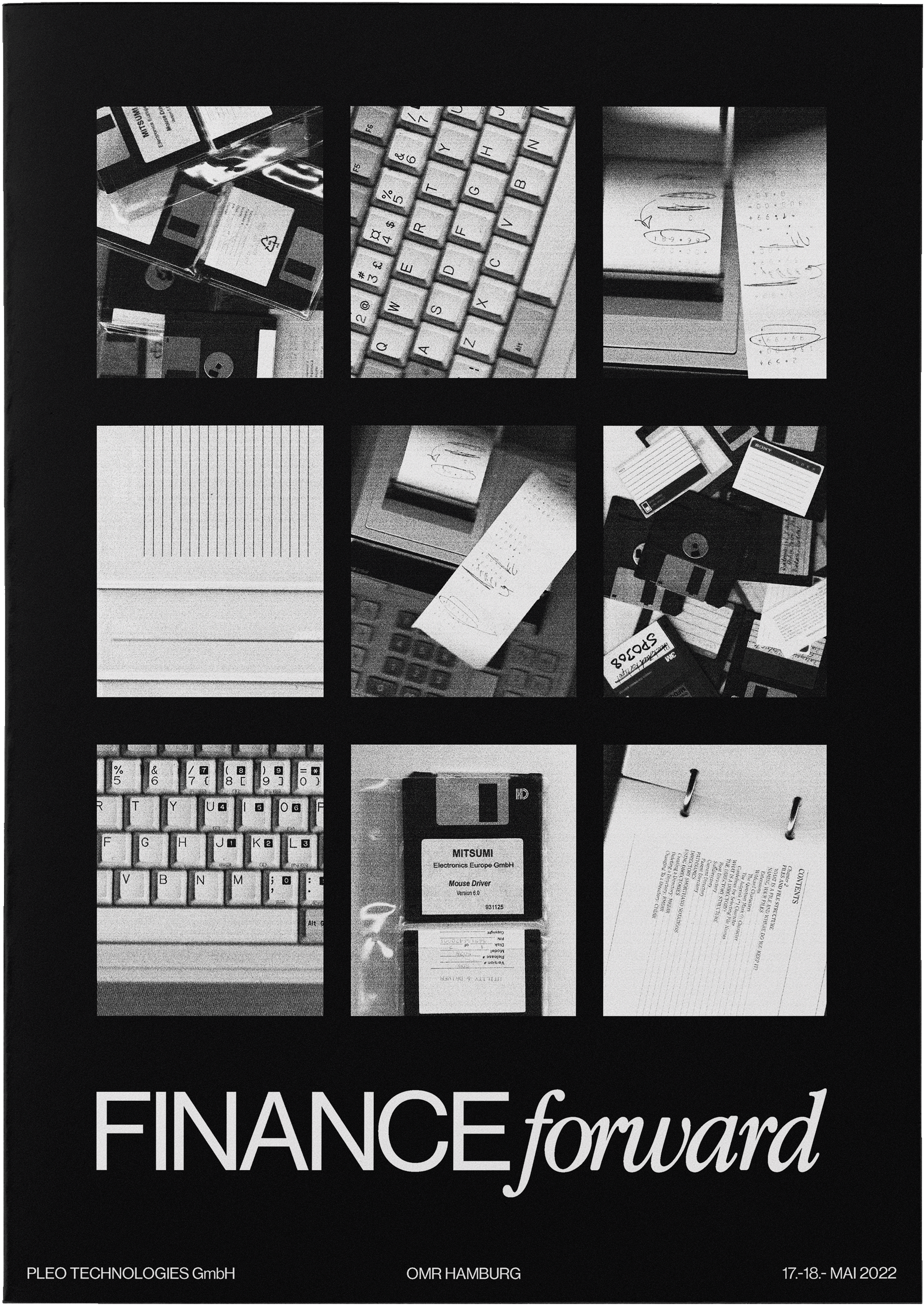 The lounge

Ladies and gentlemen, her.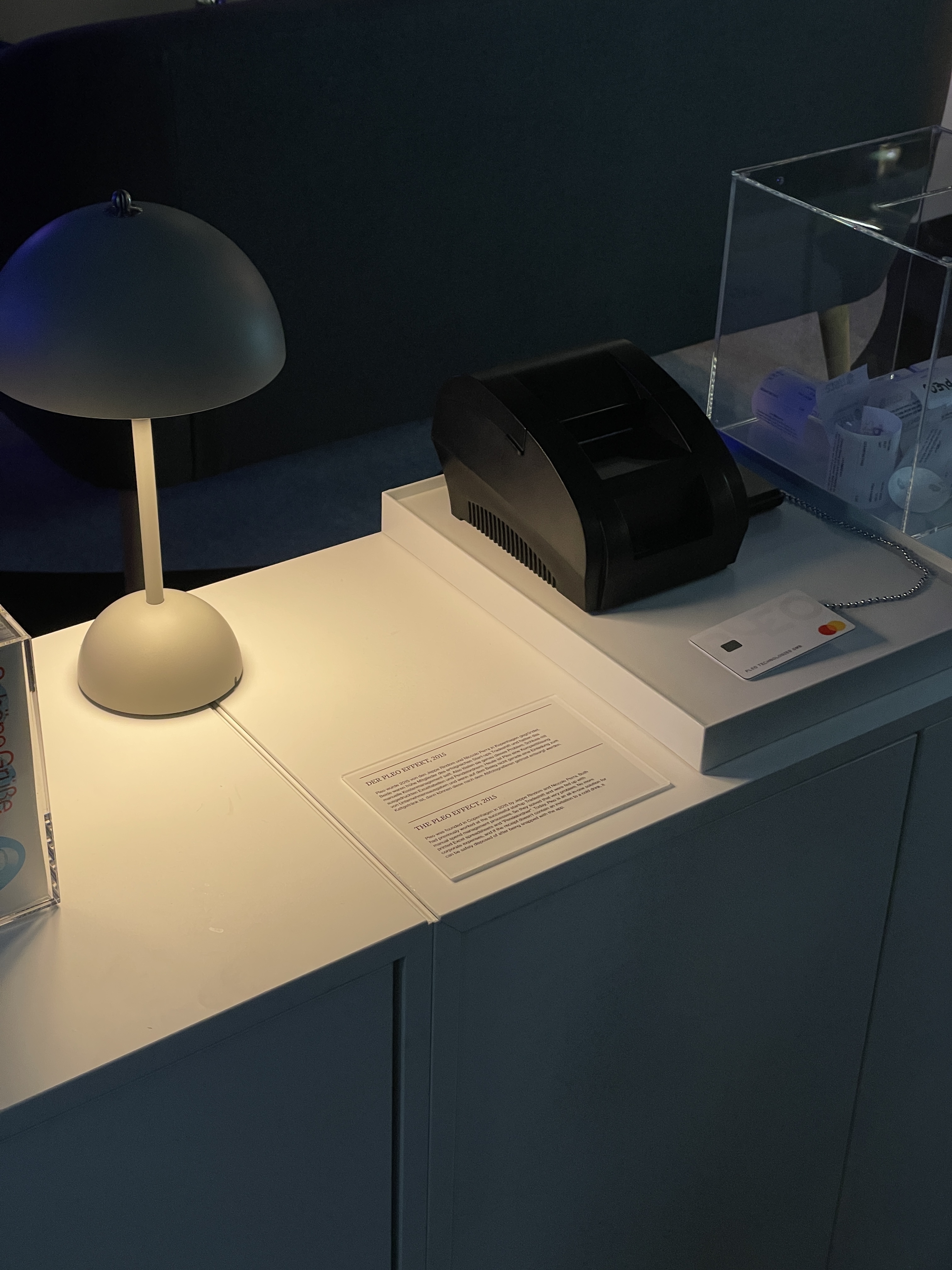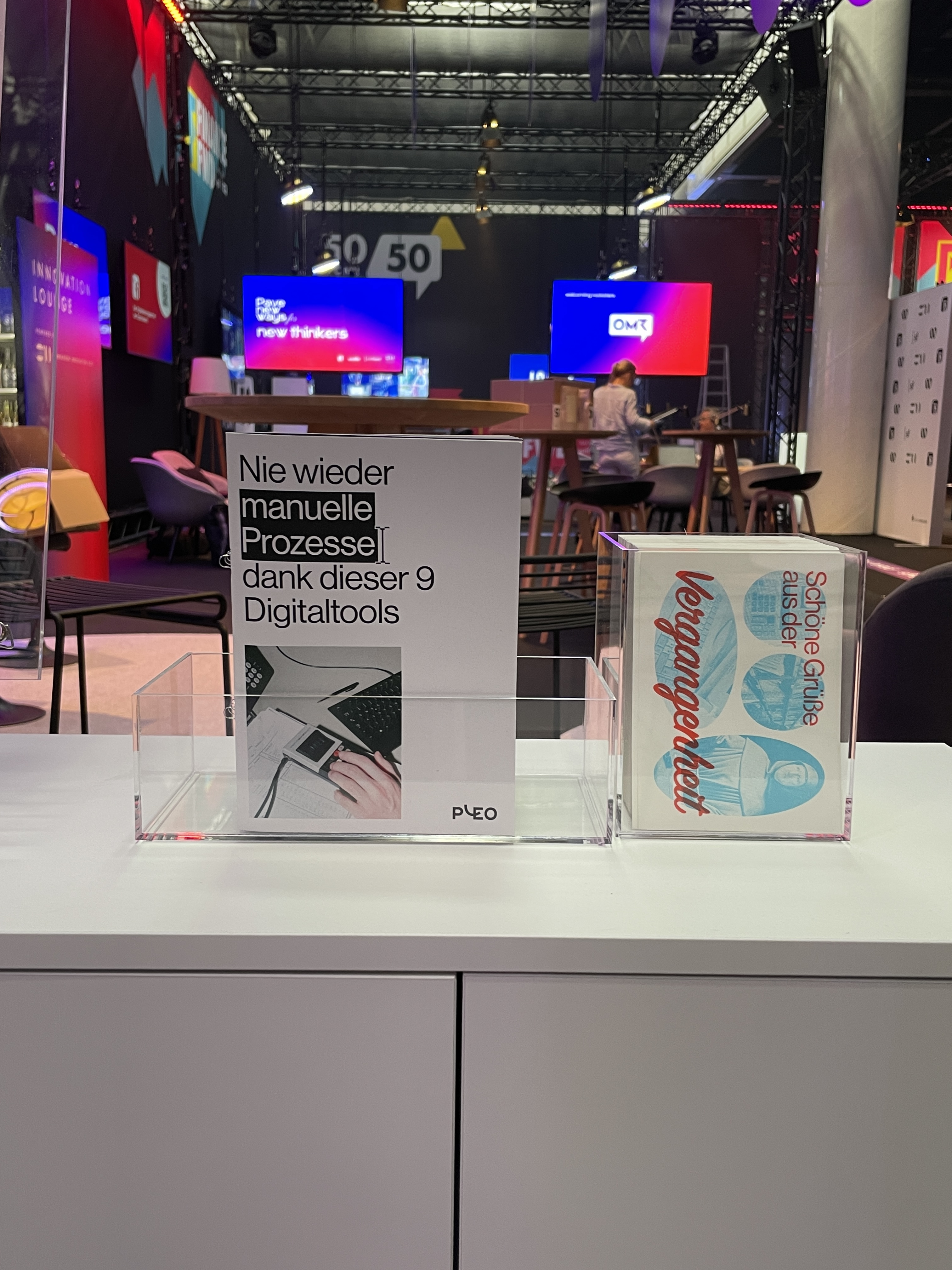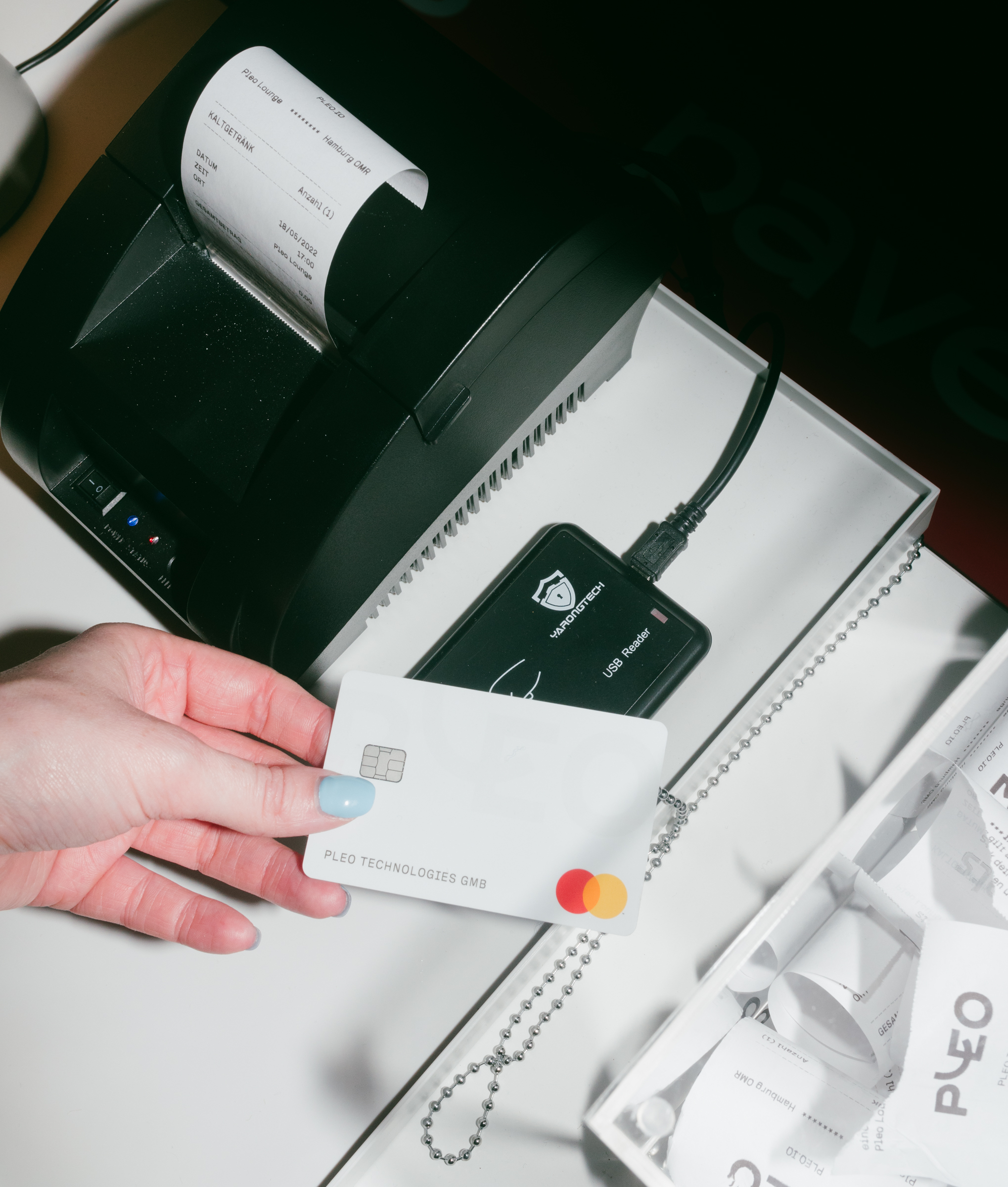 Some reflections
on events


What did we learn from this whole process?

A huge amount, as it turns out. We've been thinking about this a lot in the months since the event. Here are our big takeaways.




︎ CORPORATE EVENTS CAN BE A DESIGN HELLSCAPE – BUT THEY DON'T HAVE TO BE

You don't go to corporate events and expect to encounter stellar design. Sad but true. We've alluded to this already: the sheer amount of cheap and, frankly, carelessly designed merch, signage, gimmicky VR experiences (the number of Oculuses at OMR was truly astounding), you name it, can be truly overwhelming. Making the rounds, we were struck by how few of the expo exhibitors had thoughtful concepts underpinning their booths – and struck, too, by how much it stood out as unique and engaging when it was clear that a business had prioritised design.

The problem isn't just 'bad' design, though. It's wasted opportunity – and lack of effort. You don't have to have an enormous budget or flawlessly-executed collateral to have an authentic, engaging, interesting presence at an event. It's often the biggest brands at events who do the least – or the most, with the least soul – and that certainly sends a message.




︎THERE'S VALUE IN DOING THE UNEXPECTED

Authentic, engaging, interesting – what does that mean, though? How do you achieve that?

We knew we had a unique opportunity from the very first meetings we had with Franzi about the OMR event. She was clear from the outset that the lounge was not intended to be a hard sell. We were, instead, briefed to create something playful, sophisticated, experiential. No requests to make the logo bigger – in fact, our logo featured only subtly in the space. No pull-up banners with CTAs and product imagery. The lounge was meant to feel like Pleo, and reflect our values and principles as a brand, and there was enough trust from everyone involved in the project that we were able to execute on that without feeling like we needed to make things more obvious. In other words, we approached the event thinking 'show, don't tell'.

And speaking of trust, that's what's really at the heart of all of this. At events, you often do need banners and backdrops and prominent brand assets. At another event that the German team went to a few months before OMR, we trialled a similar approach, for the first time, but on a much smaller scale. We had a regular booth in a big expo hall and designed a Pleo backdrop. But we also focused heavily on creating a space that was welcoming, cosy, and well-designed. The feedback from the members of the Sales and Partnerships teams who were at the event was fascinating and encouraging – they had been a bit concerned about taking this more subtle approach, especially in comparison to the other exhibitors, but had found that event attendees were drawn in. The booth felt approachable, warm. The conversations they ended up having felt more natural. This felt like a significant moment for us, and it was built on mutual trust.

Trust that event attendees can be engaged on levels beyond the superficial. Trust that it's okay to experiment with doing things differently, and that it often helps you to stand out in a sea of homogeneity. Customer/client/prospect-facing teams: trust your brand/marketing/design teams to build you environments that will set you up for success – even if it isn't quite what you would expect.




︎ FOCUS ON SUSTAINABILITY NOW AND REAP THE BENEFITS INDEFINITELY

If you're producing merch for an event, design things that you believe people will genuinely like and use over and over again. Invest in good quality, in order to ensure that people are able to use those things over and over again. Overproduction and excess are real problems at events. Approaching merch mindfully is really important.

The same goes for the booths themselves. Think about if you really need to create a new banner, or backdrop, from scratch, or whether you can use something that already exists (also, where possible, design collateral like this with reusability in mind). When we bought furniture, objects, lighting, books and decor for OMR, we had clear principles: we would would not shy away from spending a bit more if it meant we were investing in quality things that would last, and we would ensure that things could be reused in future events (and, in between events, as office furniture or decor). The inventory we ended up with at OMR has ended up as a fantastically versatile, modular system, lovingly referred to as the 'travelling booth', and has been reused now for event after event in Germany throughout the year.




︎ 'IN-HOUSE OR DIE' (ANCIENT PROVERB)

We promise that your in-house team, ultimately, knows your brand better than any quick-turnaround external agency ever could. If you give them the time, resources, and trust (again with that word!), you can make magic happen ✨